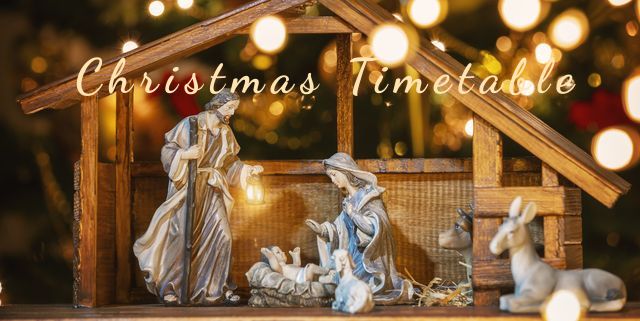 Confessions: St Patrick's
Monday & Wednesday of Christmas Week 10:30-11:00am
Sat 24th 10:30am-12:00 noon & 2:00-4:00pm
Masses Christmas Eve: Saturday 24th December
5:00pm: Carol Service at Crib – For Young Children (NOT A MASS)
6:30pm: Family Mass of Christmas
9:00pm: Vigil Mass
Masses on Christmas Day: Sunday 25th December
9:00am, 10:30am and 12:00 noon
Monday 26th December to Saturday 31st December
10:00am Daily Mass
Sunday 1st January: Masses as normal Sunday
Vigil Mass Satruday 31st December 7:00pm
Sunday 9:00am, 10:30am and 12 noon
Monday 2nd January to Thursday 5th January 2023
10:00am daily
Friday 6th January – Feast of the Epiphany – Holy Day
Vigil Mass Thursday 5th 7:00pm
Friday 6th 10:00am
Christmas Eve Village Green – Lucan Village
Ecumenical reading of the nativity narrative including Christmas Carols, with members of the Presbyterian, Church of Ireland, Methodist and Catholic Churches
1:00pm Come and join us in celebrating our common faith.
We wish all our parishioners every blessing and joy of the Christmas season. We look forward to seeing you over the Christmas period.
Fr Philip Curran PP
Fr John Hassett CC
Fr Ubaldo Muhindo CC
Fr Pius Faruna – Team Assistant
Fr Samuel Akubueni – Team Assistant