Mass times
Weekdays: 10am
Saturday: 10am, 7pm (Vigil)
Sunday: 9am, 10.30am and 12noon.
-10.30 Family Mass returns from October 22nd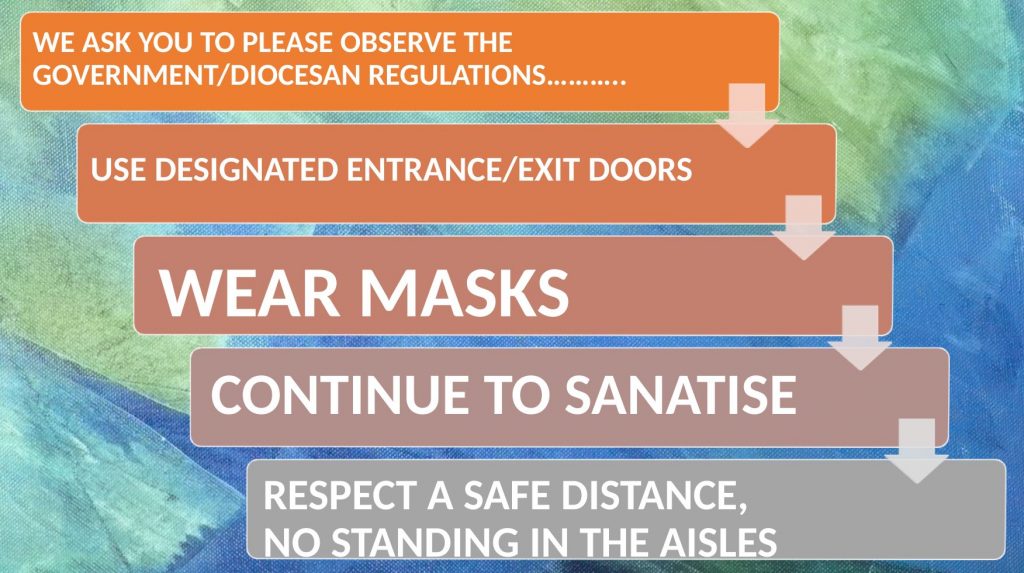 October 22nd Diocesan Update:
"Changes can be put in place from Friday 22nd October keeping in mind the following cautions:
Religious services and weddings can proceed without capacity limits but with all other protective measures remaining in place
This is a very positive measure, however it is imperative that all other Covid-19 protective measures remain in place in order to protect all members of our communities/congregations.
Premises should be well ventilated, hand sanitiser should be provided, Places of Worship should continue to use separate entry and exit routes, and face masks should be worn. Congregations should be encouraged to spread out as much as possible when attending Places of Worship and those experiencing any Covid-19 symptoms should be discouraged from attending.
As the capacity of Places of Worship and numbers attending varies greatly, the onus will be on each Place of Worship and community to consider what they are comfortable with and what best suits their congregation. This will be particularly relevant for funerals/special ceremonies, with large congregations in attendance. Attendees on these occasions should not be permitted to stand in the aisles or doorways and hand-shaking and the use of condolence books/sharing of Booklets etc should continue to be avoided.
Choirs or soloists performing in Places of Worship should be limited in line with the size/capacity of the venue, and should adhere to 2 metre social distance from other singers, the choir master, the congregation and any other individuals in the setting (as they will not be wearing face masks during performances). "
Summary of reopening measures from October 22nd 2021:
Religious services can proceed without capacity
10.30am Family Mass will return from October 22nd
>>>>>>>>>>>>>>>>>>>>>>>>>>><<<<<<<<<<<<<<<<<<<<<<<<<<<<<<<<
Q. What happens if the Church is full?
From October 22nd, religious services return without capacity.
Q. Will mass continue to be live streamed on the website?
All Masses are now streamed live on the parish YouTube channel while 10.30am Family Mass will continue to be only live streamed. This online mass is aimed at younger parishioners and their families; it is an accessible liturgy for children and enables them to participate more fully in the Sunday Mass.
Q. What do I need to do when attending Mass?
Do not come to Mass if you have a cough/cold or feel unwell.

Hand sanitisers will be provided, please use them as you enter.
Q. How are collections going to be done?
Collection boxes will be placed at the entrance and exit doors. The collection baskets will not be passed around. Envelopes/donations for collections can be left in the boxes. Volunteers will bring the collection box to those outside of the church for donations. On-line payments are also welcome on our website and ought to specify which collection is intended. The parish will shortly introduce electronic tap payments in addition to the collection boxes in and effort to reduce the handling of cash.
Q. Will the parish office be open? If not, how can I contact the office?
Q. What are the arrangements for Confession?
Confession can be requested after Mass.