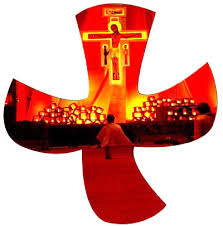 St Patrick's Parish recommends Taizé prayer and video meditations, particularly for young adults.  These are intended to help us in our journey seeking God in silence and prayer in the midst of our daily life.
"If we take as our guide the oldest prayer book, the biblical Psalms, we note two main forms of prayer. One is a lament and cry for help. The other is thanksgiving and praise to God. On a more hidden level, there is a third kind of prayer, without demands or explicit expression of praise. In Psalm 131 for instance, there is nothing but quietness and confidence: "I have calmed and quieted my soul … hope in the Lord from this time on and forevermore." – Taizé (https://www.taize.fr/en)
St Patrick's Taizé Prayer
St Patrick's Parish encourages our young adult parishioners to engage with silent prayer through the Taizé charism, which is a simple prayer method.  You can start with this simple daily prayer exercise.  You can also find a selected weekly video meditation from Taizé after this prayer.
Prayer:
You might like to light a candle, and remember that you are in the presence of God who loves you infinitely.  Then play some music, preferably Taizé chants. The link to Taizé chants at the end of these steps will help you.
Take a few moments to acknowledge how you are.  Become aware of your breathing, with slow deep breaths.  Breathe in the Holy Spirit, then breathe out any negativity (anxiety, anger, fear..)
Follow with a short reading. These readings are read, day by day, at community prayer in Taizé which can be found by clicking here.
Take a few moments to reflect on the passage and what it might mean for you.
Make your prayer in your own words to God who is with you always.
Finish with the sign of the Cross.
Taizé chants: https://youtube.com/
Morning and Evening Prayer with Taizé community
You can follow the Taizé community live for 11.30am morning prayer and 7.30pm evening prayer every day here: https://www.taize.fr/en_article28227.html . They also publish audio clips of the two most recent prayers here to allow those who wish to pray at another time to do so.
Taizé also directly video livestream evening prayer every Saturday at 7.30pm on the Taizé social media networks (see https://www.facebook.com/taize/). The link will be published for viewing on their site afterwards (https://www.taize.fr/en_article28227.html)
Taizé Meditations
Check out this YouTube channel of media resource to aid you in these periods of meditation.
Some examples from the channel
"Woman, you are set free from your infirmity" Luke 13: 10-13
Listen to Sister Lorella, Sister of Saint Andrew, speak about Luke 13:10-13, Jesus heals a crippled woman. 
"See, I am doing a new thing". Commentary by Brother Combo on living through crisis.  NB: You will need to turn on English captions.
"Forget the former things; do not dwell on the past. See, I am doing a new thing! Now it springs up; do you not perceive it? I am making a way in the wilderness and streams in the wasteland."

Isaiah 43:18-19