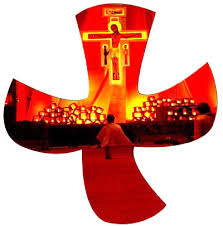 This series of Taizé prayer and video meditations for young adults are intended to help us in our journey seeking God in silence and prayer in the midst of our daily life.
"If we take as our guide the oldest prayer book, the biblical Psalms, we note two main forms of prayer. One is a lament and cry for help. The other is thanksgiving and praise to God. On a more hidden level, there is a third kind of prayer, without demands or explicit expression of praise. In Psalm 131 for instance, there is nothing but quietness and confidence: "I have calmed and quieted my soul … hope in the Lord from this time on and forevermore." – Taizé (https://www.taize.fr/en)
St Patrick's Taizé Prayer
St Patrick's Parish encourages our young adult parishioners to engage with silent prayer through the Taizé charism, which is a simple prayer method.  You can start with this simple daily prayer exercise.  You can also find a selected weekly video meditation from Taizé after this prayer.
Prayer:
You might like to light a candle, and remember that you are in the presence of God who loves you infinitely.  Then play some music, preferably Taizé chants. The videos (updated weekly) at the end of these steps will help you.
Take a few moments to acknowledge how you are.  Become aware of your breathing, with slow deep breaths.  Breathe in the Holy Spirit, then breathe out any negativity (anxiety, anger, fear..)
Follow with a short reading. These readings are read, day by day, at community prayer in Taizé which can be found by clicking here.
Take a few moments to reflect on the passage and what it might mean for you.
Make your prayer in your own words to God who is with you always.
Finish with the sign of the Cross.
Morning and Evening Prayer with the Taizé community
You can follow the Taizé community live for 11.30am morning prayer and 7.30pm evening prayer every day here: https://www.taize.fr/en_article28227.html . They also publish audio clips of the two most recent prayers here to allow those who wish to pray at another time to do so.
Taizé also directly video livestream evening prayer every Saturday at 7.30pm on the Taizé social media networks (see https://www.facebook.com/taize/). The link will be published for viewing on their site afterwards (https://www.taize.fr/en_article28227.html).
St Patrick's Taizé Meditation
Each week we will publish some multimedia resource to aid you in these periods of meditation.
Week 5th July to 11th July:
"Listen O Daugher, with the ear of your heart" Ps:45
Br. Roger reflects on our need to be heard, and our need to listen.
Questions for reflection:
From where comes the need to be heard?
In the quietness of our room, can we find God's own silence and what he says to us?
In this silence, with the ear of our heart how can we turn our listening to others?
Week 28th June to 4th July:
"Unless I see his hands … and place my hand in his side, I will not believe"
Br. Benoit talks about Jesus and Thomas – being led from doubt and pessimism into a place of trust.
Questions for reflection:
To whom do we turn in times of doubt?
Where do we find God in times of darkness?
What can we do to show God's light to others in their own darkness?
Week 21st June to 27th June:
"Introduction to Revelations – Part 1"
An introduction to the the Book of Revelation by brother John. This is the first of a series of three videos.
Questions for reflection:
When God comes into our life, what is our response?
In what way do we respond to evil?  Is it to return evil or to respond with love?
How do we allow the veil in our life fall away, so that Paul's statement can come true for us – "when someone turns to Christ, the veil is taken away"?
Week 14th June to 20th June:
"In the desert, which forces do we attend to?"
In this time of trial, Br Jean-Marc reflects on the bible verse about Jesus experiencing a desert life.
Questions for reflection:
Where is the desert in our own life, the places we might experience our greatest need?
Reflecting on a desert experience we are living, what are the forces we attend to – the force of willing our own good at the expense of others; the forces of wild nature within us; or the forces of being other-centred, assuring of God's presence even in the desert?
How do we attend to others in their desert experience as the angels attended to Jesus?
Week 7th June to 13th June:
"Pray to your Father in secret, and the Father who sees in secret will reward you" (Mt 6:6)
Br Han Yol reflects on this bible verse about praying alone.
Questions for reflection:
In the absence of praying with others, what way can I pray alone?
When I enter the room of my heart, how can I be myself acknowledging my feelings of joy, sadness, anger, guilt, shame, hope and longing?
How do we reach out to others who feel alone?  How can we best pray for each other?
Week 31 May to 4 June:
"Woman, you are set free from your infirmity" Luke 13: 10-13
Listen to Sister Lorella, Sister of Saint Andrew, speak about Luke 13:10-13, Jesus heals a crippled woman. 
Questions for reflection:
In my life, where do I get the impression there is a call for me to move forward, to pass from discouragement to trust?
What call do I feel there is for our societies?
Looking back at the past days, could I recognise the presence of God in my daily life, paying attention to me, paying attention to his people?
Week  24 May to 30 May:
"See, I am doing a new thing". Commentary by Brother Combo on living through crisis.  NB: You will need to turn on English captions.
"Forget the former things; do not dwell on the past. See, I am doing a new thing! Now it springs up; do you not perceive it? I am making a way in the wilderness and streams in the wasteland."

Isaiah 43:18-19
Questions for reflection:
What helps me to live during this moment of crisis and why?
Which activities were I was doing before the crisis and would like to continue? Which I would I like to stop? For which reasons?
What are the key messages (of encouragement, peace, questioning, etc.) that I would like to share with others?